President Homunculus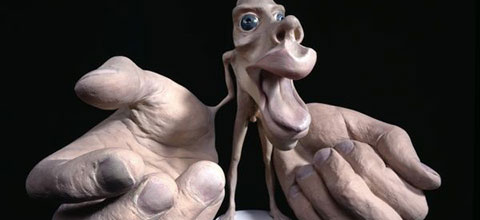 There's something extraordinary about how small Donald Trump is. We're familiar with his vanity, his narcissism, his neediness, but to grasp his tininess, his nothingness, requires a moment where there's nothing of him to see, and in full view.
That moment happened Wednesday.
What had happened was that Trump backed down. Shown his weakness. Bragged about owning a Wall-triggered government shutdown, then backed off.
And the jackals came for him.
Ann Coulter declared him gutless. Steve Doocy called him a loser. Rush Limbaugh dispatched him. He was not their man any more. He was no man at all.
Two days later, at midnight, the government shut down.
We know Trump watches Fox, watches it incessantly, watches it for validation. This is not new. It is not new that Trump loves hearing himself praised. Adored. Worshipped. It is not new that Trump craves worship, feasts on it.
What is new is what happens when Trump doesn't get it. He becomes alone in the universe. There is nothing left of him.
Nothing but a sad little homunculus.
There was chatter this week about what a dangerous moment this is, dangerous for America, as if every moment during the past two years had not also been dangerous for America. James Mattis had resigned in frustration, the last Adult in the Room, the Last Man Standing between Trump and his mercurial whims.
Mattis had been part of the Deal, the deal establishment Republicans had made to accept Trump as their leader: They could have everything they wanted, and the grownups would keep him out of trouble. Only now the deal was off, the grownups were gone, and suddenly they were fearing what the rest of us had feared from the start, that an insane, malevolent force was running our country.
But they did not fear for our country. They feared for themselves. But still, they feared.
Their fears are not our fears. They made their deal, they reaped the benefits.
Our fear is that Trump's weakness has been revealed, his true nature, the complete absence of anything at all in him, and how easily that can be exploited. Our fear is that those who hold power over him haven't recognized the power they hold, that they are not supplicants, but masters, that he needs them more than they need him.
But perhaps we shouldn't be afraid. The Russians and Saudis have known this all along. The North Koreans and Chinese learn fast. They all see Trump as he is, a homunculus craving validation, and they all know how to exploit it.
The only difference is that now everyone in America sees it, too.
Add a Comment
Please
log in
to post a comment