The Fountainhead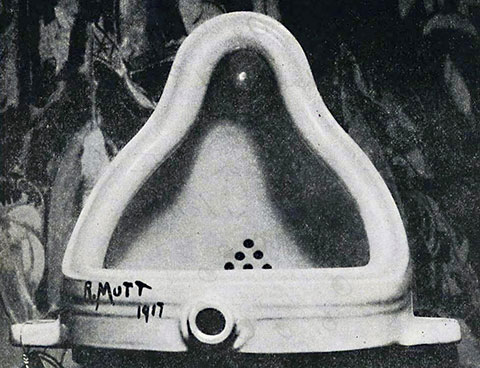 We've always been drawn to satire. From Mad to SNL to Spy and beyond, satire has been the refreshment for our soul. We drink it in, savor it, remember it for decades.
Satire makes sense of the world. It brings order to chaos, the rational mastering the irrational. Satire gets at the truth, by revealing the lies. Like jazz, the genius of satire is in what remains unsaid.
We have practiced satire whenever possible. We wrote a satire column in college. We helped produce a tabloid with a satirical undertone. We launched a blog whose dominant theme is satire.
And yet we have produced little satire for a long time.
There was a moment, a year ago spring, where we felt the urge leave us. It was not that the dominant Republican candidate wasn't ripe for satire — you would think it unavoidable, really — but that satire wasn't up to the threat he presented. The truths that satire could reveal, the truths that make good satire fun to produce, were unneeded. Nothing was hidden, nothing needed teasing out, nothing needed highlighting. It was all there, for all to see. Satire could add nothing to the picture. It was the wrong tool.
Which really bothered us, because from Nixon on, whether as audience or producer, satire had gotten us through a lot. Through everything, really. And from Nixon on, there's been a lot to get through. So why, now, when we would need satire to get us through the worst yet, has it failed us?
That question's been on our mind for more than a year. The answer has been as well, but we've seen only glimpses. But we're starting to get it now, and in a manner that really surprises us:
Satire is a luxury.
For all the shit that has gone down from Nixon on, the Republic has never been threatened. The world, chaotic as it seems, has remained orderly. Things would get better or worse (and much better or worse for some folks), but they weren't falling apart, not even close. Improvement was always possible. Hope was not broken.
Satire thrives in that orderly world, because satire is fundamentally optimistic. Things can get better. Here's a clever way of expressing how. The how is what's left unsaid, the rationality that drives the exposure of irrationality. Rationality will emerge victorious, given sufficient time. Meanwhile, let's have some fun with the blowhards.
But we do not live in that world, not now. We live in a familiar world, but that familiarity is historical, not contemporary. We have been here before. It wasn't fun.
We joked recently that we were gaining an appreciation for Weimar cabaret, and somebody immediately responded that he had felt that for months. The reference of course was to 1920s Germany, following a devastating war and a devastating peace, a brief calm when the coming storm was already inevitable but not yet arrived. It's hopeless, everything's hopeless, you see everything and are powerless to stop it. Things are only going to get worse, much worse, and they will not get better for a very long time.
Satire? Candle in the wind.
And then, more recently, we've been thinking about Dada.
Dada had its own art-historical roots, of course, a satire on the idea of art itself, but it also emerged at a very specific place and time: Duchamp's Fountain, Dada's iconic work, was created in 1917, in New York. Duchamp was in New York because he had fled Paris two years earlier. The Great War was devastating Europe, and the culture he had known.
The allure of Dada is that it is complete, determined nonsense. There is no point. It thrives on the assembly of random conventional objects, with no purpose other than being intuitively pleasing, of seeing what meaning occurs in a vacuum.
Dada does not represent, but it expresses. It expresses absurdity, total absurdity. And in a time when the world is falling apart, where sense itself is hopeless, an art that expresses the sheer pointlessness of it all can be very compelling. Our world today is not irrational, but nonsensical. Dada succeeds where satire fails.
We're not a fan of hopelessness, as it happens. Hopelessness is failure. Hopelessness is defeat. The world has survived a hundred years beyond Duchamp's toilet, fifty or sixty of them not that bad, considering. But we see what's happening, not just at the top but all the way to the bottom, we see the nonsense that permeates our Republic, almost overwhelmingly so, and when satire fails us, when our candle blows out, we have but one urge, and it's getting really, really strong:
We need to take a good, long piss.
Add a Comment
Please
log in
to post a comment