Lock Him Up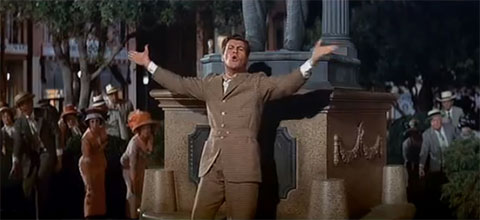 We're going to make the mistake of deploying one anecdote across sixty million people, but hey, we're grasping at straws at the moment.
The anecdote is courtesy of Rob Flaherty, formerly a digital-communications hack for the Hillary Clinton campaign. He's originally from Massachusetts, and Wednesday evening he tweeted this:
Anecdote alert: Guy in a camo hat at my hometown bar talking about how he voted for Trump but is pissed about conflict of interest stuff.
We're going to presume here that "conflict of interest" did not pass Camo Hat's lips, since that's Elite Talk. And we cannot know which bit or bits of news reached the space below said hat, since there are already so many to choose from.
Was it the foreign dignitaries being invited to stay at the fabulous Trump DC hotel while conducting business with Trump's government? Was it a Trumpspawn sitting in on meetings with ambassadors between office hours running the Trump blind trust? Was it Trump happening to mention some needs at a foreign Trump property while talking to a representative of the foreign government? Was it Trump declaring that conflict-of-interest laws don't apply to the President anyway, so fuck off?
Whatever it was, Camo Hat was left with the impression that his new President might be distracted in the course of making America great again.
Which is the first we've heard — in eighteen months —,of any Trump supporter taking pause at anything Trump has done.
And we've been hearing a lot about Trump supporters, thanks to national reporters parachuting into every holler they can find. For example, they're simple people who like simple language, inherently distrusting people (like us!) who are prone to packing too many syllables into a word, or too many clauses into a sentence.
For these people, "Crooked Hillary" and "Lock Her Up!" cut to the chase, executive summaries they can rally behind. Also, "Drain the Swamp" as a metaphor for the slightly longer metaphor of running the crooks out of town. It's not that they care about the forms and nuances of national-government corruption, but dammit they know what a hand in the cookie jar looks like.
And, let's not forget, collectively they're a mob. Angry Villagers, looking for a target, any target, to vent their resentment. These are not neocons and Randians using fancy rationalizations to disguise their greed and lust for power. They only want someone to tell them what they want to hear.
And as a mob, they can turn. Fast.
We had been figuring the trigger would be Medicare privatization, Paul Ryan's dream to throw old people to the insurance-company wolves. "Government Hands Off My Medicare!" was the most telling sign of the Obamacare fight, after all, a government program so successful that nobody knows it's a government program. Yes, Grandma would be able to keep her Medicare, but Dad's not retired yet, and Trump would be gunning for his benefits.
But Trump loves to be loved. We don't think he would have Paul Ryan's P90X abs to stomach that one.
Short of that, maybe the very messy details of Obamacare repeal would cause a revolt among its supposed beneficiaries, but the very complications of anything other than single-payer make that doubtful, since you can tell any lie about it you'd like, and who's to know better?
So how about incompetent toadies running Cabinet departments? Nah. The folks watching in horror as all that unfolds are the folks who voted for Hillary.
But maybe unrestrained avarice will do the trick.
Camo Hat surprises us. We thought Trump could say anything to these people, and they would buy it right out of the showroom, even if Trump said the opposite the day before. We also thought that avarice was not a disqualifying trait among Republicans, since we've been hearing for decades that poor people vote against their economic interests because they dream about being rich people.
And Jeezus Christ, we're talking about Donald Fucking Trump here, the Man in the Gilded Penthouse. Filthy rich is his brand.
And yet, there's that anecdote. Camo Hat, Voice of the People.
And yes, we're grasping at straws, because we're totally powerless to prevent the coming apocalypse.
But mobs turn, and craven Republicans aren't afraid of Trump, they fear the angry crowds behind him. The merest shift in the wind, and we're looking at a totally different political situation.
It ain't much, but it's all we've got. Keep hope alive.
Add a Comment
Please
log in
to post a comment