Don't Look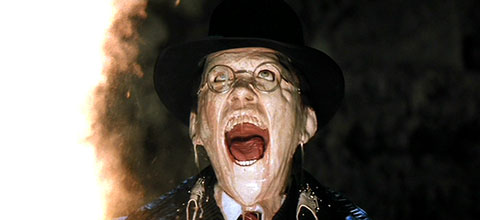 We're hearing that tonight's debate might reach Super Bowl/MASH/alien invasion territory, tempting your attention even if you'd prefer to ignore it. How can you not watch a showdown between a Charlatan Buffoon and Triangulating Technocrat — okay, fine, Giant Douche and Turd Sandwich — moderated by an amiable guy who's been instructed to be even less intrusive than Jimmy Fallon?
But if you are tempted, heed our warning:
Don't look at it! Shut your eyes! Don't look at it, no matter what happens!
We cannot be held responsible for your face melting away in anguish as you slowly realize that a man who in any just world would be laughed off the stage will be heralded as Preznidential because his belligerent ignorance appeals to half of your fellow citizens.
But should your fingers remain miraculously intact, you're invited to our Debate Open Thread/Closing Time. Whatever happens, you'll want to get a head start on being shitfaced drunk the next four years.
Add a Comment
Please
log in
to post a comment