One Damn Thing After Another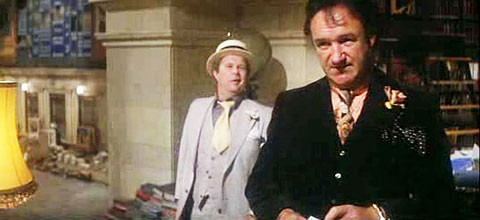 We love third-string Marvel characters, the ones who aren't big enough for movies or networks, and so end up dwelling in the Netflix basement. We love them because Saving the World has gotten pretty boring at this point in cinematic history — Superman reversed time forty years ago, after all, and after you've shown that you can rewind Earth's spin without throwing everybody into space, you've pretty much established that the planet won't blow up next time.
Besides, Beneath the Planet of the Apes blew up the planet forty-five years ago, so no point going there either.
The Marvel bench lives in the world the first-string saved, satisfying the Gods of Continuity, but their problems don't amount to a hill of beans in it. That actually makes them more interesting in practice, since their writers have to stretch to make them even worth watching. We have no inherent reason to care about street crime in Hell's Kitchen. Unless you provide one.
Case in poi—
Oh. Right. GO AWAY, WE'RE NOW SPOILING THE SHIT OUT OF STUFF THAT'S NEW THIS MONTH, INCLUDING THAT MOVIE EVERYONE ALREADY HATES.
Internet Manners dutifully observed, case in point: Daredevil, a blind Catholic vigilante who observes the Batman Code of Restraint — no killing — gets into an extended argument with Punisher, a sighted atheist vigilante who blows people's heads off, about the comparative ethics of extrajudicial justice.
This is awesome.
Okay, we're a childhood Batman nerd with a master's in philosophy, so of course the writers created this scene with the express purpose of pandering to us. But it's not just seminar chat: It's important to each of them, important to their souls, whether the moral thing is to waste a child molester or merely severely disfigure him for life. And the theme established, it recurs throughout the season.
You have space to do that when your Deus isn't Machinating up the joint.
Heck, you should have space to do that in a two-and-a-half hour movie. Just eliminate a couple of superheroes, a couple of superhero cameos, and a dozen plot points.
Buried amid the clutter and Even More Disaster Porn in Batman v Superman is a very interesting idea: What if Superman did come to Earth? Would we trust him enough to save us? And even if he did save us now, would we trust him not to turn against us later? Superman has absolute power. How do we know it won't corrupt him absolutely?
The movie elects Batman to represent the prosecution, and sure, if you need to shoehorn him into the story, there are worse ways to accomplish that. Well, except for the part about that Wayne skyscraper being in Metropolis when Gotham is just across the bay (Gotham is in Jersey?), but let's not go there.
The Versus here is that Batman doesn't trust Superman, and actually has the resources to put up a decent Climactic Battle, which we get halfway in, just where you'd expect a climax to be, followed by an hour-long trailer for a Justice League movie.
Okay, let's not go there, either.
But that's the problem: The movie does go there, and everywhere else, in the modern Blockbuster Picaresque style, a series of random events whose sole narrative purpose is that one follows another.
All that plus Jesse Eisenberg as Lex Jr., because apparently Whiny Millennial Villains is The New Thing.
Years ago, standing outside the theater after Tim Burton's Batman, we told a friend that despite our snobbish pretensions, we enjoyed a good Hollywood Ride. And we still do. But we fear that in the past thirty years, Hollywood has forgotten how to make them.
Except for Netflix, of course. Because there your superheroes can beat the shit out of each other and have a good conversation. And really, what more could we want?
Add a Comment
Please
log in
to post a comment