Ars Longueur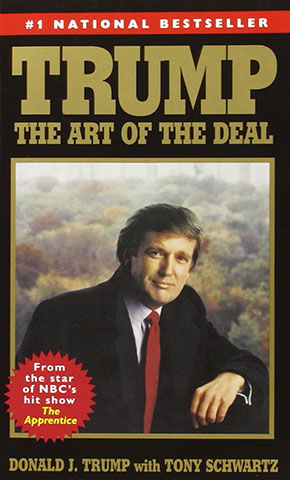 Title: "Trump: The Art of the Deal"
Authors: Donald J. Trump and Tony Schwartz
Rank: 88
Blurb: "Even a maverick plays by rules"
Review: "Hope he wins the Presidency. Voting for him. Was wavering toward others but they have a lot of serious crimes against humanity, the business world in their past. A couple politicians committed murder. I won't mention who. Anyone can do a search-investigation. Its covered up due to the money they pay, people they silence."
Customers Also Bought: "Commercial Real Estate Investing For Dummies"
Footnote: The refreshing thing about Trump as Candidate — especially after generations of rightwing extremists pretending to be moderates — is that the man himself is incapable of subtext or dog whistle. Here, in the most abstract way possible, he even compares favorably to Hillary, whose every word sounds like it went through five rounds of focus groups before leaving her mouth.
The Left's analogue — again, on this point only — is Bernie Sanders, who also speaks plainly, if in a totally different language. Both Trump and Bernie can't help sounding like themselves, instead of professional politicians, and their appeal is that you don't have to wait for the translation to understand what they're saying.
This should be the ideal of American politics, instead of the mealy mouthed mush we've all grown sadly accustomed to. (That plus unhindered voting access, of course.) And with five months still before an actual caucus or primary, we plan on enjoying it as long as we can.
Add a Comment
Please
log in
to post a comment