Bad Grandpa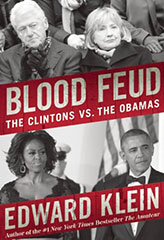 Title: "Blood Feud: The Clintons vs. the Obamas"
Author: Edward Klein
Rank: 2
Blurb…
In Blood Feud, you'll learn:
Why Michelle Obama's political ambitions could rival Hillary Clinton's
About the "deal": why Bill Clinton supported Barack Obama for reelection — and why he feels betrayed
Benghazi: how Barack Obama set up Hillary Clinton to take the blame
How the one — and only — White House dinner between the Obamas and the Clintons was fraught with tension and contempt
The Oprah factor: how she was used by the Obamas — and stroked by the Clintons
How not just Bill and Hillary, but Barack and Michelle, lead largely separate lives
The power behind the president — it's not Michelle, but her best friend who sets the administration's policies and personnel
The secret Hillary Clinton is keeping that could make it impossible for her to be president
Review: "This is one of the most sordid volumes I've ever waded through. Thirty pages into it, I wanted to take a shower. Sixty pages into it, I wanted to be decontaminated. And 200 pages into it, I wanted someone to drive stakes through my eyes so I wouldn't have to suffer through another word."
Correction: Oops. That's from a review of Klein's previous book on Hillary, by notorious lefty John Podhoretz.
Customers Also Bought: "Counterfeit Lies" by Oliver North
Footnote: Being 77 doesn't disqualify Edward Klein from writing political books, but it does help to imagine his work as a series of long chain emails from your retrograde relatives.
Buy or Die [Stinque@Amazon Kickback Link]
Add a Comment
Please
log in
to post a comment