Endgame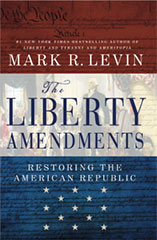 Title: "The Liberty Amendments: Restoring the American Republic"
Author: Mark R. Levin
Rank: 1
Blurb: "The Framers provided two methods for amending the Constitution. The second was intended for our current circumstances — empowering the states to bypass Congress and call a convention for the purpose of amending the Constitution. Levin argues that we, the people, can avoid a perilous outcome by seeking recourse, using the method called for in the Constitution itself."
Review: "The Liberty Amendments provides hope, direction, and an attainable goal for all lovers of liberty, conservative and libertarian alike."
Customers Also Bought: "Blacklisted by History: The Untold Story of Senator Joe McCarthy and His Fight Against America's Enemies" by M. Stanton Evans
Footnote: A Constitutional Convention bypassing that pesky Congress has been a Wingnut Wet Dream all our adult life. But with Republicans packing state legislatures through gerrymandering and voter suppression, is it still laughingly inconceivable?
Let's have a look. The amendments we're familiar with require a two-thirds vote of both the House and Senate. But a Convention can be called instead by two-thirds of the states. Then we're back on familiar turf: Any amendments must then be ratified by three-quarters of the states.
Or, if you wanna be Rump about it: Seventeen states can block any Constitutional Convention. And thirteen states can block any amendment.
We'll take New York, Massachusetts, California, Oregon, Washington, New Mexico, Vermont, Maine, Connecticut, Rhode Island, Maryland, Hawaii, and Minnesota for the win, Alex.
Of course, anybody writing a book on the subject knows this. But Mark Levin pays the mortgage with the comfortable knowledge that his readers don't.
Buy or Die [Stinque@Amazon Kickback Link]
Add a Comment
Please
log in
to post a comment