Marathon Bombing Suspect Dead; MIT Officer Killed in Shootout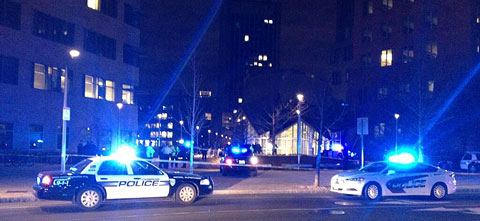 We're following a half-dozen Twitter feeds with varying information, but the Boston Globe is committing to the capture story, "according to an official with knowledge of the investigation". We'll see how that pans out.
2:50 am: The FBI is not confirming capture.
3:07 am: Two suspects have been identified by name via police scanners. We're holding off on the names, but one of them is a philosophy major.
3:49 am: Still no confirmation on the police-scanner names, but NBC is reporting that one of them had earlier caught the attention of FBI.
4:05 am: Unconfirmed reports that a second police officer was killed. Eyewitness tells NBC that suspects threw hand grenades and pressure-cooker bomb at police.
4:11 am: NBC confirms that the Marathon bombing suspects were involved. One is dead, the other (the "white hat" photo) remains at large. (Also just confirmed by BPD.)
4:23 am: BPD: Second officer not killed, but severely injured.
4:26 am: BPD: Dead suspect robbed a convenience store tonight.
4:29 am: NBC: It all began tonight with a stolen car.
4:45 am: Boston Globe: "Middlesex DA: suspects let carjacking victim off unharmed at a gas station on Memorial Dr in Cambridge after keeping vic in car for 30 mins"
5:18 am: NBC: The missing Brown student is not one of the suspects. Which is why we're not listening to police scanners.
5:28 am: Hospital: Suspect was suffering cardiac arrest on arrival; multiple gunshot wounds. Oh, and injuries from explosives.
5:50 am: As Boston wakes up, the second suspect remains at large. The city is on practical lockdown: Not just because the manhunt continues, but because of IEDs tossed out of the stolen car during the chase.
And with that, we're checking out.
Add a Comment
Please
log in
to post a comment