We Now Return You to Our Regular Idiocy, Already in Progress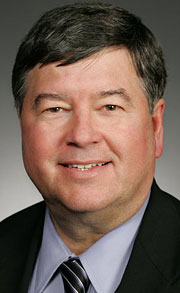 We have an informal rule of thumb: Given a nation of 315,698,590 souls (and counting), even an insignificant percentage amounts to millions — or, for easy reference, the Fox News viewership. So rather than waste our time finding SOMEBODY WRONG ON THE INTERNET, we set a high squelch level: Stupid must be interesting. And, if possible, consequential.
However, in the interest of getting out of this week's horrorshow/catvideo rut, we bring you Oklahoma House Co-Majority Leader Dennis Johnson — (R), of course — who said something you might expect of an (R) Oklahoma House Co-Majority Leader, and which we would otherwise ignore.
In debating in favor of a bill that would repeal a 70-year-old ban on "loss-leader" selling, Johnson, a small business owner, said service and not price are the key to success.

He then said some customers "try to Jew me down."
Oklahoma House Co-Majority Leader Dennis Johnson — did we mention (R)? — hails from the Great City of Duncan, and while we can't find precise local numbers, we can tell you that of Oklahoma's 3,814,820 citizens, only 4,650 are of the Haggling Persuasion. We have to wonder whether OHCMLDJ(R) has ever met a Jew, much less been Jewed down by one.
But in The Year of Our (You-Know-Who-Killed) Lord 2013, OHCMLDJ(R) at least had the presence of (small) mind to realize that ascribing shopping traits to Certain Heaven-Deficient Persons is probably not something Jesus would do:
Johnson… immediately apologized, adding "Jews run good small businesses, too."
Oklahoma House Co-Majority Leader Dennis Johnson (R!), thank you for distracting us from the real ugly shit going down this week. Under the circumstances, conventionally ugly shit is something of a relief.
Add a Comment
Please
log in
to post a comment