America's Oldest Addiction…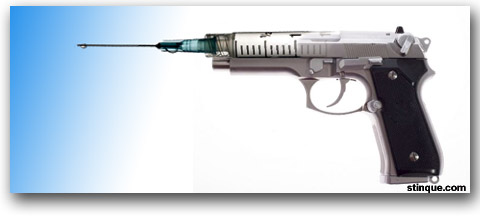 This morning, as we brewed ourselves a cup of coffee and eased into our couch, tablet in hand, to peruse the Sunday papers, one story in particular caught our eye. It was a Washington Post piece titled "Gun Deaths Shaped by Race in America." We almost didn't read the piece, because we knew what we would find: in America, a largely white-owned arms manufacturing and merchandising industry profits enormously from weapons whose most ghastly potential for mayhem and death is played out daily in the poorest, and largely minority populated neighborhoods of America's inner cities.
And the article didn't surprise us: the statistics cited in the article shows that African Americans die from gun violence at a rate ten times that white Americans.

Institutionalized racism, corporate profits, poverty, the drug war… all these factors can be brought to bear to explain these statistics (anyone who doubts that racism is still alive and well in America is invited to read the article's comments section.)
But it was in reading the article further, the section on suicide by gun in white America that the difficulties inherent in re-shaping our nation's self-destructive attitudes toward gun ownership became most apparent. The following anecdote left us speechless:
Shannon was a 15-year-old high school student. Her behavior was sometimes erratic, but her mother put it down to teenage volatility. After Shannon's best friend shot herself to death, she told her mother that she was appalled. "How could anything get that bad?" she said.

Six months later, shortly before noon on a Saturday, Massolo told her daughter that she was running next door for a minute. Shannon said she was hopping into the shower. When Massolo returned to the house five minutes later, her daughter's body was on the floor in her parents' bedroom. At first, Massolo thought Shannon was searching for something under the bed. Then she saw the head wound.

Her father's handgun had been in an unlocked drawer; the bullets were elsewhere in the bedroom. Massolo said her daughter would not have had time to get the gun, find the bullets, load the gun and kill herself in the time she was next door. Massolo concluded that Shannon had planned her suicide.

Shannon knew how to handle the gun. Her parents had taught her and her sisters to fire weapons. They had gone to shooting ranges. "The mind-set out here is that we use guns for hunting, for target shooting, to keep the family safe," said Massolo. "If you want to keep the family safe and you have mental illness in the family, then lock your guns up for a while or give them away for a while. We're not saying give them away forever. We don't want to take the gun away."

The gun Shannon used to kill herself had been in the family for years. It was a gift to her father from his father-in-law, a former Reno police officer. Shannon had used it for target practice many times.

"That's something we've dealt with," Massolo said in a recent interview. "We taught her how to kill herself. But we were trying to teach her how to be safe. It's a different mind-set out here about guns. I know the East Coast doesn't think that way."

Massolo said the weapon had sentimental value to her husband, so after the suicide inquiry, he got it back from the police. His wife won't look at it, but her husband won't part with it.

"The gun did not kill Shannon," she said. "Shannon killed Shannon. I tell him it was not his fault. It could have been any method. She killed herself. That was my way of relieving some of his guilt."
A man's daughter uses his handgun to commit suicide, and not only does the man not banish all weapons from his home, he undertakes the effort to get the weapon back from the police department after they have concluded their investigation and returns it to his collection. He did not want to part with it because the weapon held "sentimental value" to him.
We confess that this behavior is beyond comprehension to us. The only analog we can conjure is the heroin addict, shooting up in the same location where his girlfriend recently died of an overdose, or the man who has undergone a tracheotomy smoking  a cigarette through the hole in his neck. We can only conclude that America's attachment to firearms is, at least on an individual level, something akin to an addiction, and must be treated in much the same way, or we will never rid ourselves of the disease that daily takes the lives of our children.
Add a Comment
Please
log in
to post a comment