Barack Obama, Prehistoric Lizard King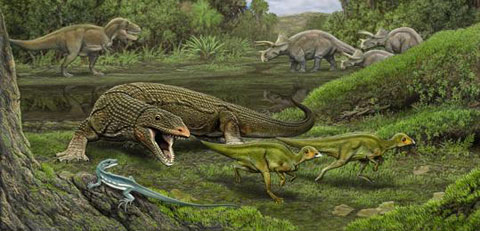 No, not the T. Rex or Triceratops in the background, and not the Palaeosaniwa chasing after the baby Edmontosauruses. The aqua critter, lower left:
The small, insect-eating lizard was discovered in the badlands of northeastern Montana — its fossil preserved in an area called the Hell Creek formation. Less than a foot long, it had elaborate teeth with three cusps on each tooth and a slender jaw. Some 65 million years ago, it went extinct. And now, it is named for the 44th president of the United States: Obamadon gracilis.
That'll lock up the critical eight-year-old boy demographic. And really, it beats a fucking puny fish.
Add a Comment
Please
log in
to post a comment