Rove Predicts an Obama Win…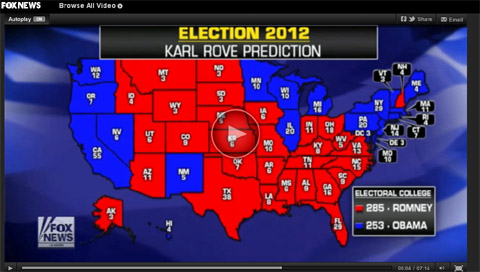 …if Mitt Romney loses Ohio. According to Karl Rove's own final prediction for Fox News. If you look at the numbers, Obama wins with 271 if he takes Ohio, according to Rove.
Considering Karl Rove's job is GOP spin, it's pretty significant that he doesn't give Mitt a path to victory without Ohio. And when you consider that Nate Silver has Obama ahead by three in Ohio, and the even the Rightward leaning Rasmussen has that race tied, Rove's view of the election isn't that rosy for Republicans. Oh, one more thing: Rove's map has Romney winning 6 of the 8 states that Fox has declared tossups, a tall order given that Obama leads Romney in 23 of 26 polls in swing states.
Will that make tonight any less brutally agonizing? Probably not. I still haven't decided if I'm staying up to watch, or or downing a few cocktails and putting myself to sleep before the results start rolling in.
Add a Comment
Please
log in
to post a comment