When I Say Nigger, I Feel Guilty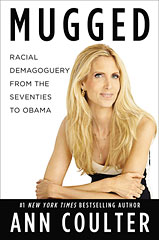 Title: "Mugged: Racial Demagoguery from the Seventies to Obama"
Author: Ann Coulter
Rank: 18
Blurb: "Going where few authors would dare, Coulter explores the racial demagoguery that has mugged America since the early seventies. She shines the light of truth on cases ranging from Tawana Brawley, Lemrick Nelson, and Howard Beach, NY, to the LA riots and the Duke lacrosse scandal. And she shows how the 2012 Obama campaign is going to inspire the greatest racial guilt mongering of all time."
Review…
"If I had any doubts about the need for this book, all I had to do was open up my morning paper and see the syndicated column by Leonard Pitts — headline teased to the front page — about the sighting of a 'Don't Re-Nig' bumper sticker.
"Pitts, who bravely battles racism every day whether he needs to or not, quotes a woman he doesn't name who says she saw such a bumper sticker, and then uses it to launch an entire column on pervasive Republican racism. No effort to determine if it was true, it's second or third-hand by the time it gets to you the reader, but if it allows to let liberals put the N word in play in the service of Obama's reelection, who cares?"
Customers Also Bought: "2016: Obama's America" by Dinesh D'Souza
Footnote: Here's the "Don't Re-Nig" sticker, first-hand…

After Lefties raised a self-righteous fuss over the totally non-racist sticker, it was removed. And, um, replaced by this…

See what he did there? How clever!
But hey, stickermeister Stumpy is obviously a crank. Ann Coulter, on the other hand, makes a good living pandering to people who agree with Stumpy, but can't bring themselves to admit it.
Buy or Die [Stinque@Amazon Kickback Link]
Add a Comment
Please
log in
to post a comment