Kansas GOP: Abortion 'NO', Skinnydipping, YES!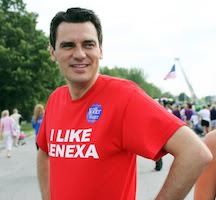 Politico:
The FBI probed a late-night swim in the Sea of Galilee that involved drinking, numerous GOP freshmen lawmakers, top leadership staff – and one nude member of Congress, according to more than a dozen sources, including eyewitnesses.

During a fact-finding congressional trip to the Holy Land last summer, Rep. Kevin Yoder (R-Kan.) took off his clothes and jumped into the sea, joining a number of members, their families and GOP staff during a night out in Israel, the sources told POLITICO. Other participants, including the daughter of another congressman, swam fully clothed while some lawmakers partially disrobed.
Sort of family values — all swimmin' together — but it's saved by the fact that it's still OK to kill an abortion provider in Kansas.