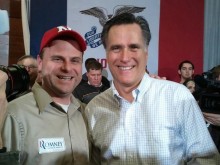 Utah GOP and Tea Party activist Greg Peterson has been accused of raping four different women, including raping two of them at his cabin/McMansion where he hosted multiple fundraisers and events for conservative politicians.  When he wasn't hobnobing with the likes of Senators Orrin Hatch and Mike Lee, Peterson, 37, was busy serially date-raping women he met at church or online, according to charges filed by the Salt Lake County District Attorney's Office.
Peterson is a business owner who has organized several Rocky Mountain Conservative Conventions, which he said was "the CPAC of the West."  Peterson has described himself as a "close personal friend of the Romney family" and was listed as a co-chairman of 2007 and 2011 fundraising events.  He said he befriended Tagg and Josh Romney at BYU, became friends with the rest of the Romney family during the 2002 Winter Olympics and had been in each of their homes.
Peterson is charged with two counts of aggravated kidnapping, three counts of rape, seven counts of object rape, and one count of forcible sexual abuse, all first-degree felonies (the rape and kidnapping charges carry sentences of up to life in prison); nine second-degree felony counts of forcible sexual abuse; one third-degree felony count of burglary; and one count each of assault and sexual battery, both misdemeanors.  His first court appearance is set for Monday.  Needless to say politicians are running in the opposite direction.
Yucky details after the jump.
According to the Salt Lake Tribune,
In the first case, the documents allege, he met a woman at a church function and she agreed to go to a movie with him.

But instead of going to a theater, the documents allege, Peterson told the woman he had a gun and took her to his five-bedroom, five-bathroom, 3,000-square-foot cabin in Heber where he has hosted annual Republican barbecues and gatherings. The documents allege he sexually assaulted the woman and hit her when she did not do as he wished. Peterson drove the woman back to her vehicle the next morning.

The charges allege Peterson met another woman online and she agreed to go to a movie with him July 2, 2011. But this time Peterson threatened to expose the woman's expired immigration visa and drove her to the Heber cabin, documents allege. Peterson raped and assaulted the woman there, court papers say, then drove her to his mother's Lewiston residence in Cache County. Peterson and the woman stayed there until July 5. The documents say Peterson took the woman to her home July 8.

On Dec. 11, 2011, Peterson met a West Jordan woman for a lunch date, the documents allege, and at her home he pushed her on a couch and sexually assaulted her.

Then, on April 21 of this year, the same day as the Republican state convention, court papers say, Peterson went on a lunch date with another woman he met through an online dating website. At her home, it's alleged, Peterson grabbed the woman by the arm and dragged her to the bedroom and held her down while he unzipped his pants and exposed his penis. The woman yelled "no" and "get the hell out of my house."
Add a Comment
Please
log in
to post a comment