HBO's "The Newsroom"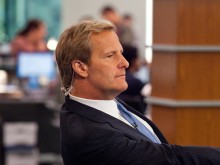 If you're not watching it, you should be. If you don't have HBO,  you can get the pilot here, and you can find episode 2 and episode 3 in chunks on youtube.com.
This series calls out the Tea Party. This series names the Kochs, and accuses them of shitting on our country. It features Jane Fonda playing a network executive who caves in to corporate pressure. It's well written, and it's pitch perfect. If only it were on CBS.
Add a Comment
Please
log in
to post a comment