Idiots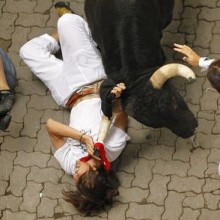 There are bears in the woods. There are sharks in the ocean. And, once a year, there are bulls running on the streets of Pamplona.
Who the fuck does this?
To steal a phrase Tom Lehrer, if you run down a street with half a ton of angry pot roast, you might win a Darwin Award.
Add a Comment
Please
log in
to post a comment