Coup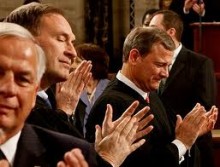 Fallows thinks we're fucked:
First, a presidential election is decided by five people, who don't even try to explain their choice in normal legal terms.
Then the beneficiary of that decision appoints the next two members of the court, who present themselves for consideration as restrained, humble figures who care only about law rather than ideology.
Once on the bench, for life, those two actively second-guess and re-do existing law, to advance the interests of the party that appointed them.
Meanwhile their party's representatives in the Senate abuse procedural rules to an extent never previously seen to block legislation — and appointments, especially to the courts.
And, when a major piece of legislation gets through, the party's majority on the Supreme Court prepares to negate it — even though the details of the plan were originally Republican proposals and even though the party's presidential nominee endorsed these concepts only a few years ago.
Until people who vote can be made to understand that the GOP is their enemy, not their friend, we will not have nice things.
Add a Comment
Please
log in
to post a comment