Second Prize is Two Romney Half-Zip Sweatshirts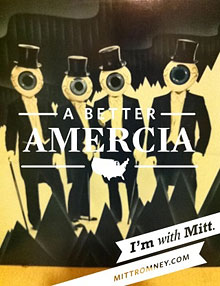 Among other things, our guest columnist doesn't realize that the clever ".tt" domain is owned by Trinidad and Tobago, which we imagine is located somewhere in Amercia.
Friend,
Would you like to help send Mitt Romney to the White House without ever leaving your home and earn free Mitt gear, too? Our "Volunteer for Mitt" program is up and running for supporters who can spare a few minutes to make personal calls to other voters across the country.
To thank you for your hard work and support for Mitt, the campaign will be giving away thank you gifts based on the number of calls made between Monday, June 4th and Saturday, June 9th.
Incentives are the following:
100 total calls made – bumper sticker
250 total calls made – lapel pin
500 total calls made – signed photo
1,000 total calls made – Romney t-shirt
1,500 total calls made – Romney half-zip sweatshirt
To get started making calls, go to http://mi.tt/Volunteer-for-Mitt to log in or register.
With your help, we can build the strong grassroots organization we need to be successful in November. Please consider donating a few minutes of your time from the comfort of your own home to this critical effort.
Thank you for your help!
Rich
Rich Beeson
Political Director
[via email]
Add a Comment
Please
log in
to post a comment