The Happiest Shitter On Earth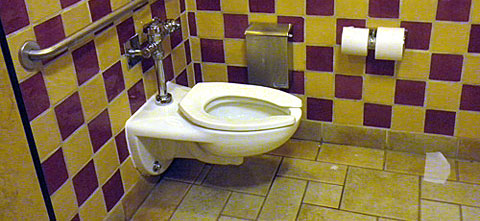 Our guest columnist has forgotten more about Disneyland than you'll ever know.
Why is the Secret Restroom better than other Disneyland restrooms?
For a variety of reasons. For example, it is the only restroom in the entire park that is entirely handicapped accessible, full of cutting-edge technology, and against park policy for discussion by any cast member.
When was the Secret Restroom built?
The Secret Restroom was built at the same time as the rest of Carnation Plaza Gardens.
How often is it used?
That depends on how busy the park is. Sometimes the Secret Restroom goes unused for hours, but at other times the line can stretch almost to Main Street.
Are there other Secret Restrooms?
Yes, but none as good as the one, official Secret Restroom. Other "hidden" restrooms include the restrooms in Aladdin's Oasis, the restroom sealed behind a wall in the guided tour pavilion, the wicker-iffic restrooms in Club 33, and the oft-overlooked Tiki Room restrooms.
Is it ever referred to as the "secret bathroom"?
No!
When was the location of the Secret Restroom first publicly revealed?
Although Disneyland goes out of its way to avoid publicizing the Hidden Restroom, a photograph of it was printed in a "Disneyland Secrets" article in the Orange County Register in 1986.
Add a Comment
Please
log in
to post a comment