Trayvon Martin, All-American Boy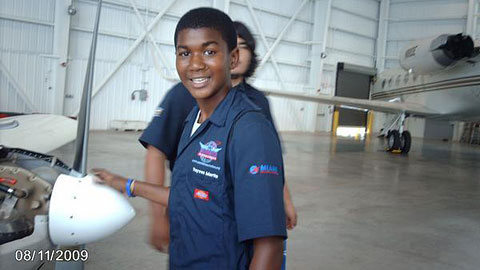 When we first met Trayvon Martin — unfortunately, too late to do anybody any good — a few details caught our attention. He wanted to be a pilot. He was good at math. He was good with mechanical things. He liked helping his quadriplegic uncle. He liked baking cookies for his cousins. He played football.
Since then, we've learned a few more things about Trayvon. He was suspended from school for an empty pot baggie. He had earlier been suspended for graffiti — for tagging "WTF" on a hallway locker. He was found with women's jewelry in his backpack — "a friend gave it to me", he said, and nothing came of it. Before then, he had been suspended for tardiness and truancy.
And we ask: So?
Let's start with what we know — and only what we know — about the incident itself. Trayvon was visiting his father. He was watching the NBA All-Star game. He stepped out during halftime to buy some snacks at the 7-Eleven. When he was walking home from the store, he was followed by a stranger who regarded him as suspicious. He got into a fight with the stranger. He was, briefly, winning the fight. And then the stranger shot him.
We don't know how the fight started. We don't know who threw the first punch. We don't know who menaced whom. And, as the public evidence stands, we may never know.
Still, Trayvon was doing nothing wrong that night. Which renders irrelevant any supposedly incriminating details about his life. He wasn't, say, burglarizing the neighborhood. He was walking through it.
But that's not why we ask the question.
No, we ask because we're not sure what the new details tell us about a 17-year-old boy that's different from any other 17-year-old boy in America. Trayvon had some good, even exemplary, qualities. He also got into some scrapes. Give him ten or twenty years, and the scrapes become a familiar backstory to any adult male in America: Yeah, we got into some trouble now and then as a kid. And then we grew out of it.
The only difference with Trayvon Martin is that he never had those ten or twenty years. And we see nothing in the record that suggests he wouldn't have had some great stories to tell about his adventurous youth.
We all tell those stories. Those of us who live to tell them.
Add a Comment
Please
log in
to post a comment