Both Sides Do It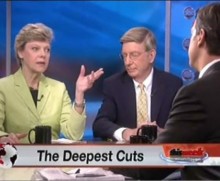 One of the most aggravating things about the "liberal" media is their claim that "both sides do it" – as if this somehow forgives the insane behaviors of the modern GOP. From David Gregory to David Brooks to Charlie Rose, this mantra is a Villager staple. Here are a few literally false equivalencies for you:
Remember when those Code Pink activists showed up at a Bush rally with semiautomatic weapons?
Remember when Marc Maron called Laura Bush a cunt on Air America?
Remember when that liberal activist blew up a federal building after Bush started the Iraq War?
Remember when George Soros and other lefty billionaires spent hundreds of millions to prevent George W. Bush's reelection?
Remember back in 1989 when disaffected Democrats dressed up as WPA workers and held up posters of George HW Bush dressed as Lord Fauntleroy?
Remember when Clinton invaded Somalia and we were there for 10 years?
Remember when Walter Mondale went hunting, wandered onto an ashram, and shot that yogi in the face?
Remember when that gang of liberals called Newt Gingrich a "honky" as he entered the Capitol?
Remember when Janeane Garofalo told that black caller to "take the bone out of [his] nose"?
Remember the time that liberal radio host accused Lee Atwater of faking the symptoms of brain cancer?
Remember when there was a major disaster and it turned out that Bill Clinton's head of FEMA was just somebody's college roommate?
Remember when those black high school kids hung the effigy of a white boy from a tree?
Remember when Bill Clinton climbed onto the wreckage of the Murrah Building and promised to bring those responsible to justice?
Remember when that liberal edited a video and got W's HHS director fired?
Remember when that liberal radio host said that a white Eagles quarterback was promoted by the media only because he was white?
Remember when that Democrat-controlled House tried to gut funding for mammograms and pap smears?
Make no mistake – these are horrible people:
[ Crooks & Liars Flash video not available. ]
Add a Comment
Please
log in
to post a comment