iGuilt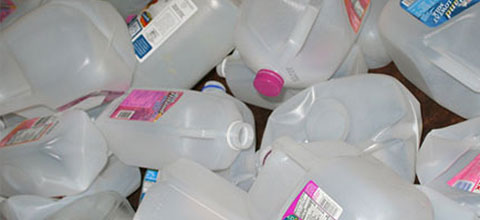 We once knew a guy who was involved with the local recycling scene in Eugene. One night he took us to a warehouse — a giant, cavernous space — where materials were collected. At one end was a mountain of plastic milk jugs.
They were going to be shipped to Asia, our friend explained, because that's where the facilities existed to deal with them. And the energy expended to process them — "carbon footprint" wasn't yet in the language — negated any benefit from recycling them. It would be another fifteen years before Dick Cheney sneered that "conservation may be a sign of personal virtue", but we were already looking at the waste product of Good Intentions.
To be an American in the late twentieth and early twenty-first centuries is to be an agent of destruction. No matter how lightly you tread, you're stepping on something. No matter how virtuous your life, to be a Caucasian in Our Exceptional Nation is to be the beneficiary of some pretty nasty business conducted in your name a century or three back. We're historical trustafarians, decrying our ancestors but reaping the benefits. You learn to live with it.
Acknowledging your Original Sin of being born into a Western Consumer Society does not require being fatalist about it. Short of withdrawing — of living off the land and off the grid — you still have some choices. You can try being less of an asshole, doing what you can, while knowing it will never, ever be enough. As long as you recognize that you can't win — you'll never be truly virtuous — maybe you'll lose with a little class.
This was going to be a post about the Big Story in Geekdom last Friday: The retraction by This American Life of an earlier story criticizing Apple for its manufacturing practices. It wasn't going to be about the controversy itself — an actor who has gained fame with a one-man show purporting to offer eyewitness testimony of Chinese armed guards and child labor turned out to have created a Reality Distortion Field of his own — but about where that leaves us. Apple may not be Evil, but they're not necessarily Exemplary, either. You can't buy a gadget — any gadget — without getting some blood on your hands.
We got pretty deep into it, but we couldn't reach a conclusion — nothing other than vacant platitudes about how America Can Do Better.
Our problem was this: We started writing that post on our iPad — our brand-new iPad. And we're writing this post on our iPad. And we'll write tomorrow's post on our iPad as well. Nothing we might have said about Chinese factory conditions changes that.
We were trying to answer a question that Ira Glass asks a knowledgeable New York Times reporter near the end of this weekend's "Retraction" episode:
But to get to the normative question that's kind of underlying all the reporting and all the discussion of this, the thing that we all want to know when we hear this is like, "Wait, should I feel bad about this?" As somebody who owns these products, should I feel bad?
What we finally realized, at the end of a weekend trying to finish a post we had drafted Friday night, is that it's the wrong question. "Feeling bad" is pointless. Either you're going to trash all your gadgets — responsibly, of course — or you're going to keep using them. And if you're going to keep using them, your feelings are just another Western luxury.
We accept responsibility, and we don't seek forgiveness. We have sinned before, and we will sin again. We hope Apple takes seriously its commitment to improving factory conditions, but we won't punish them for failing to follow through.
Just like we drive to the coffeehouse every day, and power our apartment with nuclear-generated electricity, and heat it with natural gas, and buy packaged goods at the grocery store. There's Guilt in every moment of our life. You can try being less of an asshole, but you'll always be an asshole. You learn to live with it.
Retraction [This American Life]
Add a Comment
Please
log in
to post a comment