10 am…9th Circuit…Prop. H8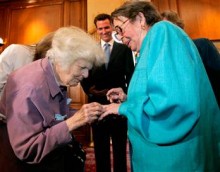 A countdown of sorts… cue up the rending of garments and freak outs.  (Linques will be added as they arise)
The 9th Circuit is ruling in Perry v. Brown on three things:
(1) Was it proper for District Judge Vaughn Walker to not recuse himself from the case because he is gay?
(2) If the answer to #1 is yes, do the proponents of the ballot measure have standing in federal court to appeal the decision since the Governator and Moonbeam won't defend it?
(3) If the answer to #2 is yes, does Prop. 8 violate the 14th Amendment due process and equal protection rights of gays?
My prediction after the jump.
(1) Yes; (2) Yes; (3) Yes.  The panel could try to wimp out on procedural grounds on #2 and say the proponents don't have standing to appeal, but that was partially a question of state law, so last year they asked the California Supreme Court to weigh in on their interpretation of state law. CSC said yes, the Prop. 8 proponents have standing.  Federal court standing is different, and there's caselaw that they could cite to let them punt on the big decision and say that the proponents didn't have the right to appeal and therefore Walker's decision stands, but my bet is that these three will want to get to the meat of the case.
My other prediction:  I don't anticipate a balls-out, sweeping decision striking down Prop. H8 and proclaiming that all bans on gay marriage are unconstitutional. There's one somewhat conservative judge on the panel and a sweeping decision striking all bans down would result in a 2-1 decision and put it on the fast track to SCOTUS, where they love to bench-slap the 9th Circuit.  I anticipate a more narrow decision – a unanimous love letter from the panel to swing vote Justice Kennedy – that applies only to California and says that once the state supreme court articulated this fundamental right for gays to marry back in the spring of '08, the state/voters cannot just take away the right to marry without a good reason.  This would track the reasoning of  Romer v. Evans, written by Kennedy, a decision that struck down a Colorado state amendment that would have prevented any government entity from enacting anti-discrimination laws that applied to gays. There may be some references to Lawrence v. Texas, the decision that overturned a ban on gay sodomy, also written by Justice Kennedy, with additional citations to Justice O'Connor's concurrence that said rather than focus on the disputed act that is being outlawed (in that case sodomy, but the logic applies to marriage) it was a violation of equal protection to target a particular group (in that case, gays who engage in sodomy but not straights, but again, her logic applies to gays who want to marry).
Check back here for more linques.  Prognosticate away in the comments.
Add a Comment
Please
log in
to post a comment