Politicians By Other Means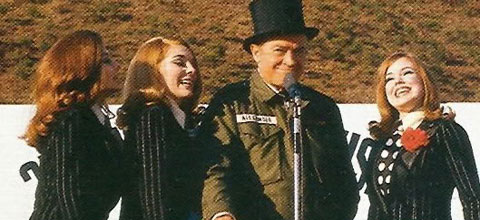 Being Our Age, one of the things we remember from Our Youth was the annual Bob Hope USO Show. Whatever you think of Bob Hope's politics — we weren't aware of them at the time — the USO Show was unabashedly a Good Thing, bringing entertainment to Our Beleaguered Boys in Vietnam, none of whom was Newt Gingrich or Mitt Romney.
That war is long past, but the USO endures — not just with high-profile events like Stephen Colbert's week in Baghdad, but visits to the troops from folks you've probably never of. Comedian Graham Elwood is one of those folks, and in a recent podcast chat with Chris Hardwick, Elwood describes the practicalities of doing stand-up in war zones. You don't just work blue, for example — you go full on fucking indigo. But Elwood steers a wide berth from one subject:
"I'm fairly liberal in a lot my politics, but I was like, 'They don't need to hear this shit — they're living it…' They're living the result of politics."
We're willing to entertain exceptions, but we can't think of an honest American war in our half-century lifetime. The war we grew up with, the war we're still living now, and all the wars in-between — all have been examples of a saying from our childhood, that old politicians are commanding young men to die for their re-elections. Those who don't die, come back freaked out — PTSD is one of Elwood's causes, following his many conversations with the grunts on the ground.
It's worth remembering what Mitt said about his own potential cannon fodder the last time he was trying to buy an election:
"It's remarkable how we can show our support for our nation, and one of the ways my sons are showing support for our nation is helping to get me elected, because they think I'd be a great president. My son, Josh, bought the family Winnebago and has visited 99 counties, most of them with his three kids and his wife. And I respect that and respect all of those in the way they serve this great country."
Compare that with Graham Elwood describing the "thousand-yard stares" among some of the soldiers he entertains. There's a half-world of difference between a family Winnebago and a poorly armored Humvee.
We're not opposed to war as such. But this isn't 1941. Nor has any year been in our life. We've never felt personally threatened by the action of a foreign government. The only thing that's come close is the action of a couple dozen terrorists, and that particular morning our only concern was to maintain a healthy distance from the Transamerica Pyramid and the Golden Gate Bridge. Earthquakes have done worse. Not to mention traffic accidents.
Just once, during one debate, when a Republican proclaims his enthusiasm for bombing the shit out of Iran, we would love to hear a simple follow-up question: "Governor Romney, would that be worth sacrificing one of your children?" Because if war is politics by other means, it's long past time we consider the ersatz politicians we send to fight it.
Add a Comment
Please
log in
to post a comment