State of the Union: The Real Lesson Learned.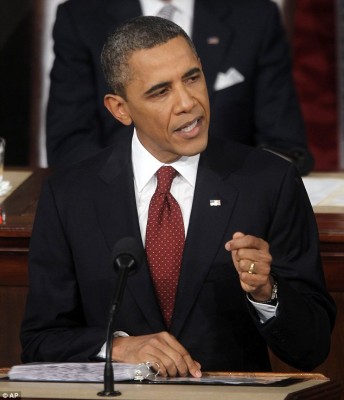 Finally we have a president who knows how to tie his tie!
Note the handsomely made pleat under the half-windsor knot. That is how it should be done, people! A tie is not meant to be smooth-fronted. The pleat, like the lapel button-hole that is there to allow the jacket to be closed up to the neck, is a holdover from when a tie was more like a cravat. Mind you, it helps to have a tie of this quality that will accept the knot correctly. Kudos on the pattern, too.
The trick is, as you tighten the knot, to pull the long end to one side, which will form the pleat correctly. Also to be noted is the perfect fit of the shirt collar and the exact amount of cuff showing. Plus the exquisitely tailored suit in a handsome dark blue.
Now imagine this next to Michelle's royal blue silk-satin number and you have a couple who could have been dressed by Worth, a house which specialized in state gowns that needed a man in evening dress to be standing beside the woman to balance her gown. Except here we have our brilliant president and his accomplished wife drenched in the kind of glamor that only Americans can really pull off. This is the kind of sumptuous simplicity that knocks Carla Bruni off her Louboutins and makes her lock her bedroom door against Nicky while she consoles herself with a pint of sorbet d'abricot as she replays the tape of Sex Kittens of Ibiza. I'm going out on a limb here to suggest that not even during Camelot did we see this kind of sophistication. And that grin! Of course, we didn't get to see the trousers much. But let's face it, he's got the perfect body to wear this kind of suit, long of leg, waist set high, shoulders just broad enough to accept the weight of the world. I'm thinking, Brooks' Brothers boxers, trim cut, in a pale blue cotton, freshly laundered, still crisp from the iron, smelling faintly of starch…
Plus there was stuff and such as. And the jumping up and down. The orange-faced drunken lout sweating behind him. Hugely touching scenes with Gabby Giffords. The rage of Cantor. Biden picking at his face while the president hosed the house with a dazzling display of sang-froid with a delivery so accomplished it seemed effortless. I'm guessing Mitt R did not get a good night's sleep.
But all the time I'm thinking, that knot is a masterpiece!
Add a Comment
Please
log in
to post a comment