You're Under Arrest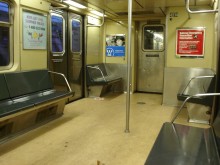 My tax dollars at work:
It is perhaps the most minor crime New Yorkers are routinely arrested for: sitting improperly on a subway seat. Seven years ago, rule 1050(7)(J) of the city's transit code criminalized what was once simply bad etiquette: passengers putting their feet on a subway seat. They also cannot take up more than one seat if it interferes with other passengers' comfort, nor can they block movement on a subway by doing something like standing too close to the doors.
Tonight a cop pulled me and another guy over because he thought we'd used the door at the end of the car to move to the next one. I hadn't, and the other guy told the cop I hadn't. He had. Wonder if he got arrested?
Add a Comment
Please
log in
to post a comment