Amateur Separated at Birth Attempt Goes Horribly Awry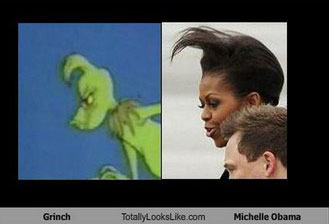 Early Thursday:
"Political cartoons are a part of American culture. It's hard to see how [Kansas legislator] Mike O'Neal poking fun at himself and forwarding a lighthearted political cartoon about the first lady's extravagant spending of taxpayer funds during a time when many Americans are financially struggling is newsworthy," [O'Neal spokesbot Alyson] Rodee said.
Later Thursday:
House Speaker Mike O'Neal, R-Hutchinson, on Thursday issued an apology for an email he forwarded to fellow House Republicans that refers to first lady Michelle Obama as "Mrs. YoMama" and compares a photograph of her to a picture of the Grinch.
Could have been worse. Could have been Alfalfa.
Add a Comment
Please
log in
to post a comment