Humor in Uniform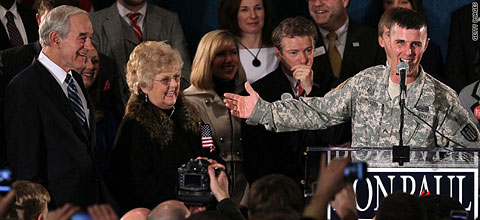 Watching the Iowa speeches last night, it was a bit unsettling — if not quite Shocking! — to see Ron Paul introduce Jesse Thorsen, an active-duty Army corporal, to share a few words. In uniform. Can he do that?
Answer: No.
Guidelines laid out in the federal Hatch Act specifically prohibit uniformed members of the military from making political speeches or taking official roles on political campaigns. Members of the military are permitted to attend political rallies, but must not be wearing their uniform while in attendance. On stage with Paul, Thorsen was wearing green Army fatigues.
Opinions are like assholes, and we're all entitled to one. But in Our Exceptional Nation, we exercise our rights as citizens — not soldiers.
Not yet, anyway.
Add a Comment
Please
log in
to post a comment