Thanksgiving Recipe Swap and Open Thread
Well, it's Tuesday night before Thanksgiving and you might be wondering to yourself, "What the fuck am I going to take to that pot-luck?" or "Would anybody notice if I used the pot butter in the mashed potatoes?" or "Did Nojo really watch that entire Republican debate with only one six pack?"
If you're tired of the same-old, same-old holiday recipes, and are looking for something new to try out, Stinque is here to help.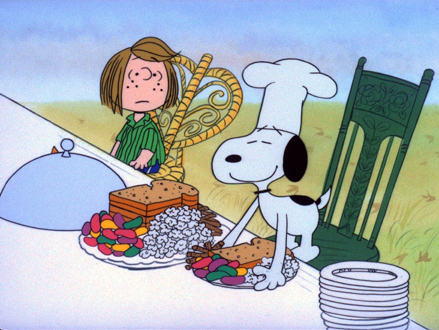 A few favorites from the SFL household after the jump. Feel free to ask for ideas or offer recipes in the comments.
First, Dungeness Crab, more of a tradition in Ess Eff than the turkey.
Grilled Dungeness Crabs with Spicy Butter
4 cooked Dungeness crabs, 1-1/2 to 2 lbs each
2 stick unsalted butter, sliced
6 garlic cloves, crushed
Juice of 1 or 2 lemons, plus another for garnishing
1 tsp. red pepper flakes
1 tsp. fresh black pepper
1/2 tsp. chili powder
1/2 c. chopped green onions
Start the barbecue to medium heat or indirect coals. Crack and clean the crabs.  Divide into 8 separate piles on a large sheet of aluminum foil. On each pile, place one-fourth of the other ingredients (except use only the lemon juice). Wrap up the pile in foil so that there are no leaks and they are in little pockets. Pop on the grill and cook for about 10 minutes. Put each foil packet on a plate and garnish with lemon. Pig out.  Serves 8.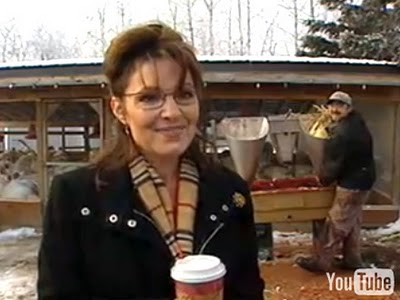 Corn Bread Dressing With Chestnuts
8 c. cornbread, cut into 1/2″ pieces
3 c. turkey or chicken stock
1 c. dried cherries
8 bacon slices, finely chopped (tip: can also use ground sausage removed from casings)
1 yellow onion, finely chopped
1 celery stalk, finely chopped
1 carrot, finely chopped
salt and fresh ground pepper to taste
1 jar (14.8 oz) French chestnuts
3 tbs. fresh chopped sage
3 tbs. chopped fresh flat-leaf parsley
1 egg
Preheat oven to 350. Butter a 13 x 9 baking dish.  Arrange cornbread on a baking sheet and toast for 20 minutes in the oven. In a small sauce pan over medium heat, warm stock.  Remove pan from heat and add dried cherries. Let cool.  In a fry pan over medium heat, warm olive oil.  Add bacon and cook, stirring occasionally, until crisp.  Transfer bacon to paper towel-lined plate.  Add onion, celery, and carrot to the fry pan and saute until soft and translucent, about 5 min.  Season with salt and pepper.  In a large bowl, combine corn bread, bacon, onion mixture, chestnuts, sage, and parsley. Whisk egg into stock mixture and add to cornbread mixture.  Season with salt and pepper and stir gently to mix.  Transfer dressing to prepared baking dish. Bake until browned and crispy, about 1 hr. Serves 10-12.

SFL's Cranberry Sauce
2 c. minced onions
1 c. minced celery
1 tsp. canola or vegetable oil
1 bag fresh cranberries
salt to taste
1 c. unsweetened applesauce
2 tsp. freshly grated orange peel
juice of 1 orange
1/2 c. pure maple syrup
In a covered non-reactive saucepan on medium heat, saute the onions and celery in the oil until softened and translucent, about 10 min. Add the cranberries and a pinch of salt, lower the heat and cover, simmering and stirring occasionally until the cranberries have popped, about 10 min. Remove from heat and stir in the applesauce, orange peel and juice, and maple syrup. The sauce should be tart – only add enough maple syrup to offset the sourness of the cranberries. Can be served cold or warm. If you want to be really fancy, bake acorn squashes sliced in half and use this as a filling.
Okay Stinquers, what do you have to share with the crowd?
Add a Comment
Please
log in
to post a comment