Occupy Althingi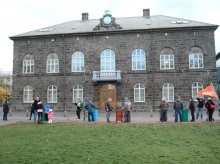 While traveling abroad, as part of Stinque International Outreach, I happened to be in Reykjavik overnight before heading west to the fjords. Iceland has a population of just over 300,000, of which 200,000 live in the capital. In the summer months there are more tourists on the island than inhabitants. Our global financial collapse began in earnest when three small icelandic banks were taken out of government control, decided they wanted to replace JP Morgan, made crazy deals, promised the moon, and then cratered.
To rescue/punish the nation, the IMF imposed harsh penalties, strict austerity measures, and a gradual repayment of the huge private debts the banks had accrued with public money. Icelanders said 'fuck you', threw out the government, elected a woman as prime minister, and took their finances back under government control. Will they make it?
The demonstration was noisy but peaceable. Large motorbikes roared around downtown (3 streets) till the wee hours.
Everybody pretty much knows who everybody is. When I was there I was told there were twelve people who were responsible for the collapse. They were calling out their names before the parliament (seen here). What no one could understand was why they hadn't been arrested. Now it seems they have. Others have fled and are being pursued by Interpol.
So if Iceland led the way into the collapse could they now be showing us the way out?
Note to Stinquers contemplating a visit: liquor is very expensive.
Add a Comment
Please
log in
to post a comment