Seattle Flunks the First Amendment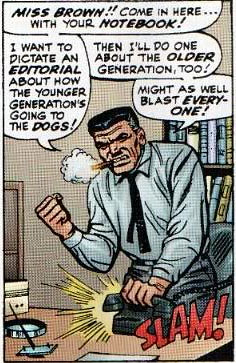 We don't recall whether our career as a high-school journalist lasted one year or two, but we can state with confidence that we were an abject failure: Not once did we piss off the Administration.
Don't worry — we atoned for our sin in college. Big time. But that's another story.
Sadly, we lack the confidence to proclaim that we would have handled our Fantasy Indiscretion properly. For all we know, we would have made the same fundamental mistake as our colleagues in Seattle:
A proposal being considered by the Seattle School Board could have a chilling impact on free speech in the city's high schools, First Amendment activists say.

The proposed policy would give principals the authority to review high-school newspapers before they are published and would allow them to stop publication if they deem material to be libelous, obscene or "not in keeping with the school's instructional mission and values," among other criteria.
Do you see the problem here? How about a telling clue?
Two top editors at the Ballard High School paper, The Talisman, spent the weekend posting signs around the school titled "Student 1st Amendment Rights at Risk."
Well, no. Who's teaching kids these lies?
But Kathy Schrier, executive director of the Washington Journalism Education Association, says the proposal goes much further than that.

"It opens the door for administrators to pretty much censor at will," she said.
Ah.
Pop quiz: Who's the publisher? Because if the answer is the school district, that's not censorship, that's editing. And it's a lesson you'd best learn early, since the folks who later pay your salary will have a similar interest in what you write.
Or, to trot out the old line: Freedom of the Press belongs to those who own one.
Happily, that's a lot easier these days. We didn't have blogs in high school.
As it happens, our college rag was one of the first student-owned papers in the country, so we were free to really feel the thrill of being responsible for the crap we published, especially that one satire issue that managed to piss off the entire town. Being a Constitutionally protected profane brat is fun!
The sad part about all this is that the assembled students, Journalism Educators, and First Amendment Activists have deprived us of one of our favorite sports: Mocking famous people who whine that their free speech has been violated. If the people who should know how the First Amendment works are fucking clueless, how can we blame anyone else?
Add a Comment
Please
log in
to post a comment