Where Have All the Deists Gone?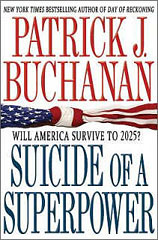 Title: "Suicide of a Superpower: Will America Survive to 2025?"
Author: Pat Buchanan
Rank: 20
Blurb: "America was born a Western Christian republic, writes Buchanan, but is being transformed into a multiracial, multicultural, multilingual, multiethnic stew of a nation that has no successful precedent in the history of the world."
Review: "Pat's thesis is clear throughout the book: America is disintegrating before our eyes. 'What happened to the country we grew up in?' It's a question that I, as someone born in 1960 and someone who shares Pat's Christian beliefs, can identify with." (Fr. Charles Erlandson, Tyler, Texas)
Customers Also Bought: "Why Catholics Are Right", by Michael Coren.
Footnote: If you'd like to return to the days when Papists were scorned by polite society, fine by us.
Buy or Die [Stinque@Amazon Kickback Link]
Add a Comment
Please
log in
to post a comment