GOP Airs Its Dirty Magic Laundry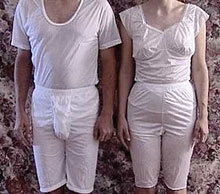 Enough whispers! Let's finally put this on the folding table:
Dr. Robert Jeffress, a Dallas pastor and leader of the Southern Baptist Convention introduced Rick Perry before a nearly full crowd at the Values Voter Summit in Washington Friday.

He also gave Perry his formal endorsement. After Perry's speech, Jeffress expounded to reporters about his belief (and the formal position of the SBC) that Mormonism is "a cult."
Whoops! Call out the fire brigade!
Rick Perry does not believe Mormonism is a cult. But he's not going to condemn his brand-new endorser who does.

That's the word from Team Perry after Southern Baptist Convention chief and Texas pastor Robert Jeffress endorsed Perry at the Voters Values Summit Friday and immediately set about claiming Mitt Romney is a member of a cult and is not a Christian.
Because, after all, your bigotry is your own damn business:
"The governor doesn't judge what is in the heart and soul of others," Perry campaign spokesperson Mark Miner told reporters, according to tweets from several correspondents. "He leaves that to God."
Question: Is that what Rick tells himself when he executes innocent men?
Add a Comment
Please
log in
to post a comment