But Transubstantiation is Perfectly Legit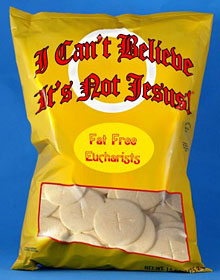 Our guest columnist is Rick Perry supporter and Generals International cofounder Cindy Jacobs, praising Perry's August prayer meeting. Generals International is devoted to "achieving societal transformation through intercession and the prophetic".
So you go and so you study the area and you find out what happened, what did the indigenous people worship, you know?
And… and… and… if they did blood sacrifice, like, we found some areas where they were very violent because the former culture was a murderous violent… like in Texas here and all the coast around Houston and Galveston and some other areas the Native American people were cannibals, you know?
And they ate people.
And so you could see a manifestation of that in the churches where people turned against people and kinda cannibalized other people's ministries.
So there's been a lot of prayer over that in Houston, Texas. They've done a lot of intercession over that and broke the curses on the land and we just had a prayer meeting in Houston a little week ago, the governor of Texas really as an individual instigated this. Thirty-five thousand people showed up to pray and… so what happened, the land is starting to rejoice, you see, because of that prayer.
Add a Comment
Please
log in
to post a comment