You Never Go Back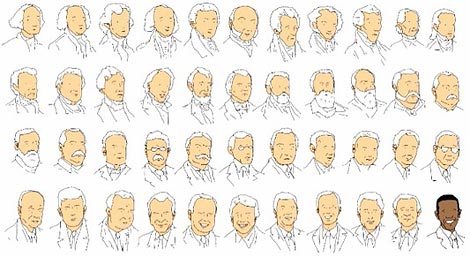 Herman Cain's victory in the Florida Straw Poll is, in itself, meaningless. Like its Iowa counterpart, the Florida scheme is pay-to-play — it doesn't tell you anything about a candidate's electoral support. What it reveals, at most, is a candidate's financial and organizational cojones.
Still, it's not good for your Indomitability Narrative if you can't even buy a fake election. Mitt Romney wasn't even in town for the fake ballot — a clever dodge — and the fake vote is being read mainly as Rick Perry's failure to triumph. Cain didn't so much capture hearts and minds as provide safe harbor for a protest vote — aided on the sly by Mitt's bucks, it's being rumored.
But with so many also-rans to choose from, why Herman Cain? Dunno. And, for present purposes, we don't care to overthink it.
Rather, let us observe that on this day of Our Lord, September Twenty-Six, Two Thousand Eleven, it was at least conceivable — not plausible, but conceivable — that of the two major-party candidates for Preznit of These United States, only one of their four parents would be Caucasian.
We're not big on American Exceptionalism. But that would definitely be exceptional for America.
Add a Comment
Please
log in
to post a comment