A Queen in the White House?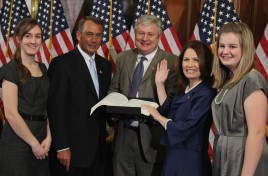 No, not Michele but her husband Marcus.
The big old queen next to Boehner in this heart-warming scene.
Matt Taibbi (I know, I know) burns down the barn in his account of Michele's burning desire to become the dumbest woman in America. That she's been amply blessed by nature may be true. But there's no doubt that Marcus, described as her "strategist", raises the game to a whole new level of arrogant ignorance.