Meanwhile, In Canada….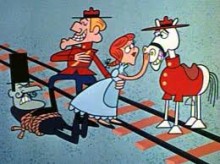 Good Lord.  There was enough drama with the Canadian Election as it was.  (This drama, naturally, was wholly unexpected.  It's Canada, for Christ's sake.)
Jack Layton, for the NDP (Team Orange in your programs, what the Democrats would look like if they were actually uniformly progressive) is actually set for a big breakthrough.  Given the fact that he comes across as actually not being a total douchebag, and that Liberal leader Michael Ignatieff (Team Red) actually has managed to be more boring than Al Gore, and that Quebec is sick of voting for federal politicians that want to end Canada (that'd be the Bloc Quebecois, Team Light Blue), Layton might actually form the second largest party and — if Fatboy and the Conservatives (Team Labatt's Blue)  are held to a minority win (still the most likely outcome) — might actually become Prime Minister himself.
And then Osama got a cap or twenty in his ass.  This might give the Conservatives a bunch of juice, and not a moment too soon.  Canada's involvement in last night's thing was nil, but they have been putting a lot of time, treasure, and blood into Afghanistan.  Harper — in the course of reading Dubya's playbook — has doubled-down on the war.  And Layton was campaigning, hard, on pulling out.
And so, a rarity: an election night where absolutely nobody knows what the fuck is going to happen.  Coverage on a C-SPAN network (C-SPAN2, I think, starting soonish), along with this open thread for your Canucking pleasure.
Add a Comment
Please
log in
to post a comment