From the Halls of Montezuma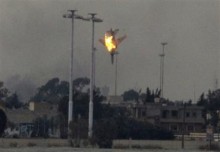 …to the shores of Tripoli.
U.S. Navy warships and submarines are launching missiles at Libya. French fighter jets are flying over Tripoli attacking Gaddafi's troops.
UPDATE: The military has named this "Operation Odyssey Dawn" —  who the hell comes up with these idiotic names for military operations?
Add a Comment
Please
log in
to post a comment