Wisconsin May Not Be Egypt, But It Might Be Libya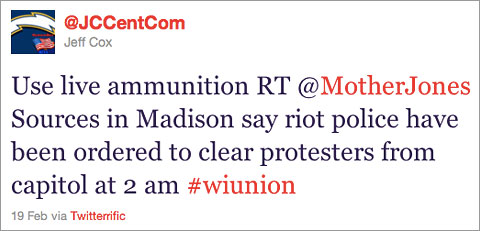 Tweeter JCCentCom is known to his friends as Jeff Cox. He's also known to his colleagues as a deputy attorney general for the state of Indiana. And now he's known to his employers as somebody under "immediate review".
Bonus Instant Update!
The Indiana Attorney General's office announced Wednesday afternoon its deputy attorney general is no longer employed by the agency, after reviewing political website Mother Jones' published allegations that he advocated the use of force against protesters in Wisconsin.