Don't Forget the Budget! Ok, Forget the Budget.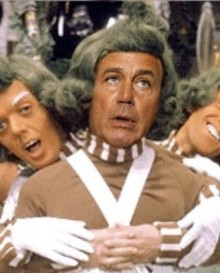 Are you guys excited about budget season? I know I am. John Boehner, who helps run the government for Willy Wonka, is leading the charge against the President's Budget Request. It's like March Madness, except it lasts far longer and there is no real winner. With the President planning to cut the Budget by $1.1 trillion over the next ten years, the Republicans are angry, because they hate budget cuts.
No. That's not it. They hate when the President does anything. And they especially hate it when he threatens to reduce  fuel subsidies and  money for the Department of Defense.  So, they do what they do, which is to be assholes and cut stuff people enjoy, like jobs and truth and America. What do they want to kill this year?
1:  Like I said, jobs:  Boehner: if "jobs are lost, so be it." Remember during the campaign when the GOP candidates were all like, "Where are the jobs?   Where are the jobs?"  Apparently, they didn't really give a shit.  
2.  Endangered Species Act Protection for gray wolves. Well, of course.  Wolves are assholes.  Also, this will save billions.
3.  Reduced funding for death panels. Or maybe it's Community Health Centers.  Whatever.
4.  Corporation for Public Broadcasting. Big Bird is a socialist.  Burt is gay. And, that show has way too many black people on it to not be a little scared when you watch it.
5.  Americorps. I was suprised, too. This the only branch of the military under the axe.
6.  Everything else you might like, if you are not a war junky, tea partier, or military contractor.
Oh, by the way, the GOP's claim that they have  $100 billion in cuts is inflated, since they are comparing to Obama's budget proposal for last year, not the actual budget.  So don't worry!  We really only have to deal with about $60 billion in cuts, which will affect things that you only need if you are poor, middle class, or a wolf.  And, in the end,the GOP will really fuck up and we'll have a 90s style government shut down, or, as differences stay irreconcilable, everything will be just the same as it was last year and we'll continue funding at present levels under continuing resolutions.    Of course, even in the short term resolution, the GOP will still try to delist wolves.  and Boehner will still include a $450 million dollar earmark for his district.  Perfect.  Welcome to our shit government.
Add a Comment
Please
log in
to post a comment