Egyptian Protests Escalating
Egyptian President Mubarak has ordered a curfew across Egypt tonight, after protesters battled police across the country.  Protesters show no sign of letting up, despite police attacking them with tear gas and rubber bullets. Opposition leader and former UN nuclear watchdog chief Mohamed ElBaradei is under house arrest.
The country took the unprecedented step of shutting down Internet Service Providers and cell phone service, but news is still getting out.  Egypt's Al-Masry Al-Youm is getting live coverage out.  Al-Jazeera also has coverage, and is reporting that there are protests in Jordan against the ruling government. The Beeb is saying that one of its reporters was arrested, had his camera taken from him, and was beaten by police forces, that thousands of protesters have been arrested and at least eight people are dead.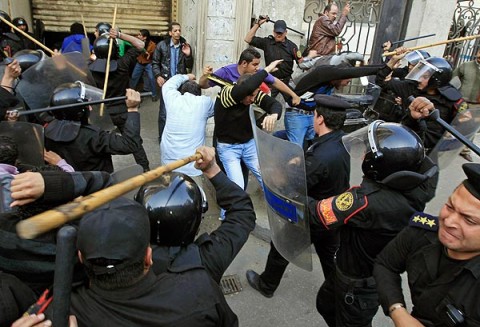 And the New York Times cites Al-Jazeera as saying that the protests aren't just in Cairo:
In Suez: people are demonstrating in front of mosques after the prayer and are chanting the same slogans they've been chanting the past few days.

In Sharqeya: no local phone calls only international and thousands demonstrating after prayer and clashing with security forces.

In Cairo: security closes down Tahrir Square and prevented Friday prayers in Omar Makram mosque downtown Cairo. Mohamed ElBaradei attends Friday prayer in an open air area with around 2,000 people. Clashes with protesters surrounding Mr. ElBaradei. Protesters in a mosque near the one Mr. ElBaradei prayed in called for ousting Mubarak.

Thousands protest in front of Al-Azhar mosque in Cairo.

In Menia: Thousands protest in front of the main mosque in Menia, one of the biggest cities in southern or Upper Egypt.

In Alexandria: Thousands protest in front of ElQaed Ibraheem mosque and clashes between protesters and police in the downtown.

Thousands protest in Mansoura.
Stay tuned.
UPDATE:
Al-Masry Al-Youm now reporting that protesters have set on fire the headquarters of the ruling National Democratic Party in Cairo.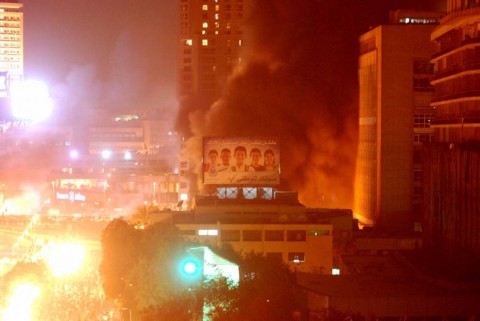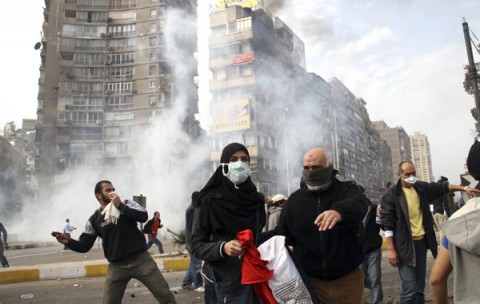 UPDATE 2: Meanwhile, the Beeb is reporting that tens of thousands of citizens are protesting in Yemen today against the regime, its corruption, and the lack of jobs.
UPDATE 3: Mubarak calls out the Egyptian Army to restore order. As of this update, the protesters are welcoming the Army, which is relatively well-regarded in the country for staying out of politics. And so far the Army doesn't appear to be knocking heads.
UPDATE 4: Post updated with more photos from the AP.
UPDATE 5:
Check out this photo of a protester greeting soldiers: