Glenn Beck's Headshots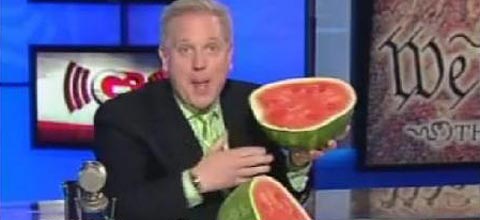 Our afternoon guest columnist is the host of the popular Fox News program "Glenn Beck's Paranoid Style", spittling last June 10. Elsewhere in Cyberville, the penultimate paragraph is getting a lot of play today. We're having a difficult time making sense of any of it.
The media and the politician have all of this wrong. In every single walk of life — you want to know why TV doesn't reflect you? You want to know why Washington doesn't reflect you? Because they don't understand, from the radical revolutionaries to the Islamic extremists — and yes, DOJ, they do exist — to the Tea Party movements.
Just because you in Washington and you who are so out of touch with life in the media, just because you don't believe in anything doesn't mean nobody else does. We do. You know why you're confused by this show? It's because I believe in something. You don't.
Tea parties believe in small government. We believe in returning to the principles of our Founding Fathers. We respect them. We revere them. Shoot me in the head before I stop talking about the Founders. Shoot me in the head if you try to change our government.
I will stand against you and so will millions of others. We believe in something. You in the media and most in Washington don't. The radicals that you and Washington have co-opted and brought in wearing sheep's clothing — change the pose. You will get the ends.
You've been using them? They believe in communism. They believe and have called for a revolution. You're going to have to shoot them in the head. But warning, they may shoot you.
They are dangerous because they believe. Karl Marx is their George Washington. You will never change their mind. And if they feel you have lied to them — they're revolutionaries. Nancy Pelosi, those are the people you should be worried about.
Hey, Glenn Beck, Stop Inciting Death Threats Against Professor Piven [The Progressive, via Tom Tomorrow]