Republicans Waste No Time Driving Congress Off the Rails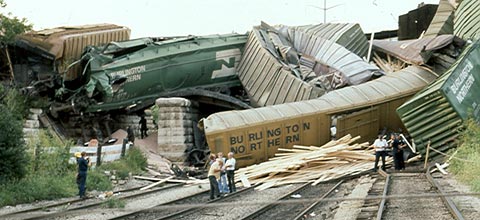 So, now that we're set to embark upon The Most Constitutional Congress in Six Thousand Years of World History, what's the first thing that happens?
House Rules Chairman David Dreier (R-Calif.) abruptly adjourned a hearing on a GOP health care repeal bill Thursday after he became aware that Rep. Pete Sessions was not sworn in as a Member of the 112th Congress, committee spokeswoman Jo Maney said.
No, the Chief Justice wasn't at the scene of the crime — Pete wasn't in the room when everybody sweared fealty to teabaggers yesterday.
But wait, it gets better: Civilian Pete "offered the motion to constitute the Rules Committee," which was duly passed, and is now duly canceled. And with no Rules Committee, there's no Obamacare Repeal bill. Oh, there aren't any House rules, either.
Easy fix, right? Well, depends:
Dreier is consulting with the parliamentarian about how to best craft a unanimous consent agreement to rectify the situation, Maney said…

It's unclear whether Democrats will allow a unanimous consent agreement to go forward, or if they will force the chamber to restart the entire process of opening the new Congress. That would result in a delay of the health care repeal vote for several days.
Demrats? This is the fattest pitch you'll be thrown in the next two years. But somehow, we suspect you'll whiff it.