Vote Now for the 2010 Stinque Awards!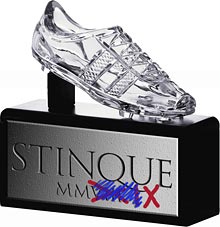 It was a year without sex scandals.
Well, good ones. We're sure that, if pressed, we could come up with something. But nothing with a marketable catchphrase like "Hiking the Appalachian Trail."
And so, breaking with a long and storied tradition, the 2010 Stinque Awards for Achievement in Infamy will be the first without honoring the Best Spill of Precious Bodily Fluids in an Inadvertently Public Role. But not to worry — we're sure that with so many new Republicans taking office in a few weeks, pestorking nominations for the 2011 Stinque Awards will be delightfully oversubscribed.
Until then, your immediate attention is required to the following categories:
Technical Awards for Nice People
Le Prix Trudeau for Best Un-American Activity
Velveteen Vuvuzela for Obnoxiousness in Sport
Feathered Fawlty for Most Obsequious Pundit
Platinum Passport for State Most Welcome to Secede
Silver Slinky for Most Spineless Democrat
Teflon Teabag for Best Wingnut
Golden Anal Pear for Asshole of the Year
Crystal Douchebag for Lifetime Achievement
To vote for an award, simply write a comment below. Don't bother ballot-stuffing — winners will be decided on a qualitative basis. Quality will be determined by the content of the nomination, as well as penmanship and effectiveness of sucking up to the judges.
Our distinguished panel includes, as always, Yoda Pez, Cat Stick, and Fishtray, none of whom have been seen in public for more than two years, so don't worry if you miss the references.
Winners will be announced next Monday, December 27. Cropped heads will roll.
Add a Comment
Please
log in
to post a comment