Stinque Recipe Challenge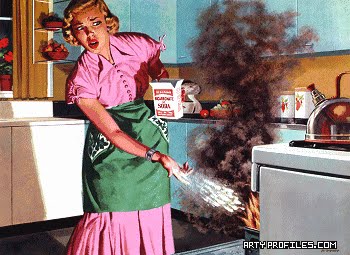 Thanksgiving on the Upper West Side means being jarred awake by the sound of helicopters covering the Macy's Thanksgiving Day Parade. This year, it also means Julia Child's Duck Stuffed With Apples and Sausage.
And yes – I could totally pull off that dress.
Consider this an open thread for your cooking adventures.  I'll post my duck saga as it happens, and you should send me photos to post as well.
Here's the defrosted Long Island Duckling, weighing in at just under 5 pounds: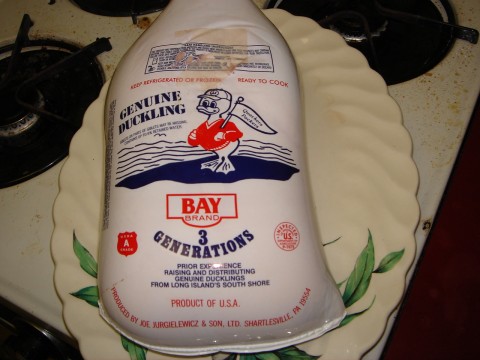 Caneton Roti a l'Alsacienne
You will need:
5 1/2 pound duckling
1/2 tsp salt, 1/8 tsp pepper
pinch of thyme or sage (I wlll use chopped fresh sage)
1 small sliced onion
shallow roasting pan just large enough to hold duck (I plan to use one w/ a rack)
1 medium sliced carrot
1 medium sliced onion
a bulb baster
Estimated roasting time – 1 hour and 20 to one hour and 40 minutes (for stuffed duck, as here, add about 25 to 40 minutes)
Preheat oven to 425 degrees
At this point you would stuff the duck (see below) – for duck without stuffing, season inside with spices and  the small sliced onion. Truss the neck skin, legs, and wings to the body (just google truss duck/chicken and you'll see myriad ways to do it), dry the duck, prick the skin around the thighs, back, and lower breast.
Place the duck breast up in the roasting pan, strew the vegetables around it, and set in middle of oven to brown slightly for 15 minutes (recipe does not call for using a rack, but I am going to because this is a duck we're dealing with).
Reduce oven to 350 and turn duck on it's side, regulating heat so duck makes cooking noises but fat does not burn. Suction off fat at intervals – about 30 minutes later, turn duck on its other side. Fifteen minutes before end of roasting time, salt the duck and turn breast side up. Duck is done when thickest part of breast is at 165 degrees.
For the stuffing;
1/2 pound pork link sausages (I have sweet Italian)
4 or 5 crisp eating apples
1 tbsp sugar
1/4 tsp cinnamon
1/4 tsp salt
1/4 tsp sage
2 tbsp cognac
1/4 cup port
1/4 cup stock or canned beef bouillon
Saute the sausages in a skillet until lightly browned. Drain, then mash with a fork, and retain fat.
Peel, quarter, and core the apples. Cut quarters in 2 or 3 lengthwise pieces and saute in sausage fat in batches, lightly browning them.
Place apples on platter, and sprinkle with seasonings and cognac.
Pour the fat out of the skillet, Add wine and stock and boil rapidly until reduced to about 3 tablespoons, then pour over the cooked sausages.
When apples and sausages have cooled, mix delicately together. Stuff loosely into the duck, then sew or skewer the vent and truss the duck. Roast according to the instructions above.
Add a Comment
Please
log in
to post a comment