The Circus Comes to Town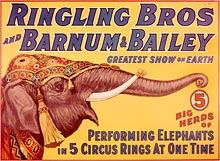 Yeah, we know — it never left. But if, unlike Jon Stewart and a nation of teabaggers, you haven't been pigging out on Fox News 24/7, you can now enjoy its new spinoff channel, the United States House of Representatives:
The GOP plans to hold high profile hearings examining the alleged "scientific fraud" behind global warming, a sleeper issue in this election that motivated the base quite a bit.
Other exciting episodes in development include "The New Black Panthers Party Hearty," "ACORN: The Next Generation," and "All My Birth Certificates."
Inside investment tip: Watermelon futures.
The GOP Plan To Investigate Obama: The First Four Potential Investigations [TPM]
Add a Comment
Please
log in
to post a comment