Nancy Boys d. Fightin' Dubyas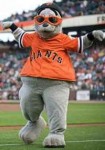 The pressing question is whether a drunken, joyous San Francisco will have an effect on turnout, thus allowing eMeg and Carly an unearned advantage.
What is not a question? Timmy Lincecum is the man. As are the other boys on your World Champion San Francisco Giants. Big congrats to Stinque's very own SanFranLefty — enjoy, dear.
Add a Comment
Please
log in
to post a comment