Imperial Storm Troopers Attack West Virginia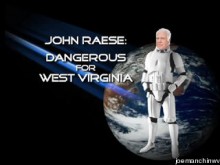 Best.2010.Campaign.Ad.Evah.
Joe Manchin (D) has a new ad out for the West Virginia Senate race, and it trumps Carly's demon sheep.
"We need 1,000 laser systems put in the sky, and we need it right now," Raese is shown saying in the video clip.

Then in comes that John Williams Darth Vader theme music, images of people in storm trooper costumes on parade, and laser beams from the sky wiping out a public school, clean drinking water and a Social Security card. The final image: John Raese's head on a storm trooper body, with laser beams raining down upon Earth in the background.

"John Raese's ideas aren't just crazy — they're downright dangerous," the announcer says.
Add a Comment
Please
log in
to post a comment